Overnight:
Taxia Village in Nanjing (1)
ITINERARY
Day 1: Xiamen-2.5 hours-Nanjing
Pick up from hotel in the morning. and take a 2.5-hour scenic drive to Meilin in Nanjing; Visit
Heguilou
,
Changjiao Ancient Village
,
Huaiyuanlou
,Then travel to visit
Tianluokeng Tulou
,
Yuchanglou
(leaning structure hakka house),
Taxia village,
check in hotel in Taxia village.
Meals:
Chinese lunch
Overnight: in Weiqunlou (Original Tulou with private toilet), Taxia Village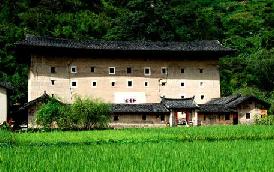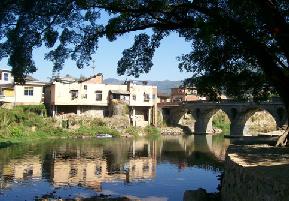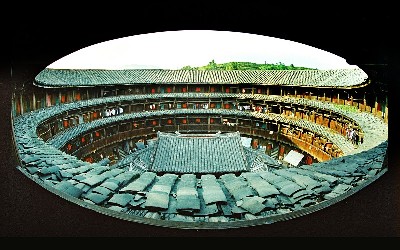 Heguilou Changjiao Village Huaiyuanlou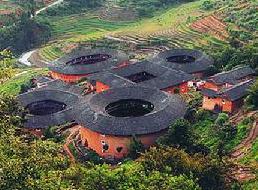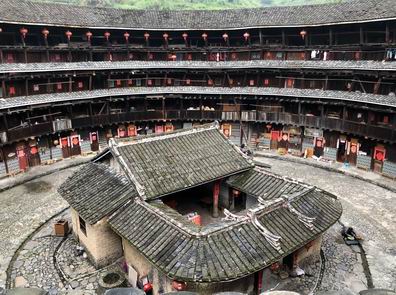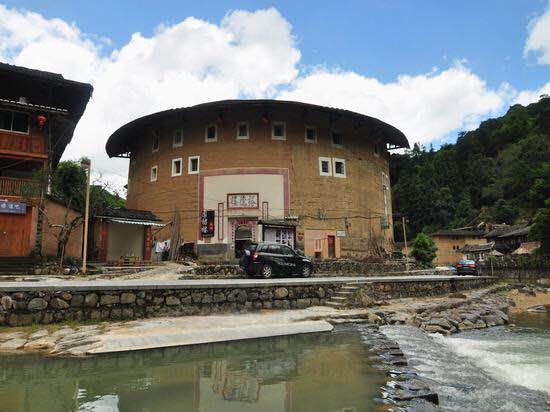 Tianluokeng Tulou Yuchanglou Weiqunlou in Taxia village
Heguilou
: Heguilou is located in Pushan Village, Meilin Town. This large square building is 21.5 meters and
five stories high. It is the highest of all the earth buildings and most interesting of all,it was constructed on
a swampland and has been impregnable for more than 200 years.
Changjiao Ancient Village: This beautiful ancient village is named after the Changjiao Brook that connects Heguilou and Huaiyuanlou. Along the banks of the brook are ancient banyan trees, ancient building and patches of farm land. A walk through the village will bring you back in time to Chinese traditional rural life. This village has been a popular place for film making.
Huaiyuanlou:This four-story round building in Changjiao village,Meilin town was constructed in 1907.The foundation of the wall was rammed from large cobblestones from the river and a mixture of lime, clay and sand. The surface of wall remains clean and smooth in spite of the pass of time. The ancestral hall of the building also serves as a private school. The beans, ridgepoles, doors, and windows in the entire ancestral hall are decorated with beautiful carvings and painting in the ancient syle.
Tianluokeng Tulou: located in Shangban Village, Shuyang Town. The castle, composed primarily of four round and one rectangular earthen house, is one of the most magnificent and well-preserved Hakka Castles in the area. The village is also listed in the Famous Historic Cultural Village in China for its typical cultural regional system.
Yuchanglou:Located in Xiaban Village, Fuyulou was built in 1308 and is one of the oldest existing Tulou. This five-story earth building is most famous for its tilted pillars. The most extreme is slanted at15-degree angle. Yuchanglou has been like this for more than 600 years and remains intact today.
Taxia Village: This exquisite Hakka village is located in a valley in Shuyang Town. There are more than 20 earthen building of different shapes built along the bank of a clear brook that flows through the entire village. Another major attraction is Zhang's Clan Ancestral Hall, Next to a pond, 20 stone flagpoles rise like a stone forest in front of it. As one of the most well-reserved ancient clan house in China, Zhang is Clan Ancestral Hall is listed among the key culture relics protected under national level.
Day 2: Nanjing-0.5H-Yongding-3H-Xiamen
In the morning, travel to Yongding, visit Chengqilou and Chuxi Tulou Cluster, transfer back to Xiamen after the tour.
.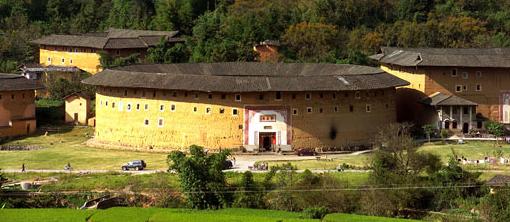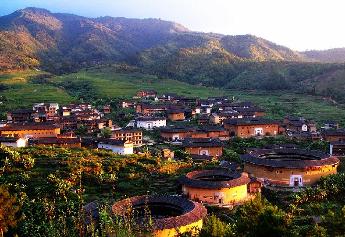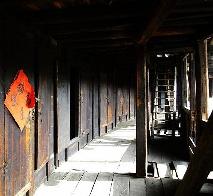 Chengqilou
Chuxi Tulou
Chuxi Tulou
Chengqilou: Located in Gaobei Village, about 5 km. away from Hongkeng Tulou, Chengqilou is the largest of the earth buildings. It is almost three hundred years old and is made up of four concentric circular buildings. This King of Round Earth Building has altogether 400 rooms and used to house 80 families, totaling more than 600 people in its prosperous days.
Chuxi Tulou Cluster: includes five large circular buildings and ten rectangular buildings. Jiqinglou is the oldest and most special round earth buildings in this area. It is almost 600 years old and covers a total area of 2826 m2 with 206 rooms. Unlike normal round earth building that usually got only four public stairways, Jiqinglou is equipped with 72 stairways, which divide the whole building into 72 independent units. All rooms, stairways and interior walls are constructed with wood and rabbet structure. Not even a single nail is used for the construction and the earth building remains intact after 600 years.Jiqinglou also houses more than 10,000 exhibits about the unique life, history and culture of the Hakka people
| | | | | | | | | | | |
| --- | --- | --- | --- | --- | --- | --- | --- | --- | --- | --- |
| | 1 | 2 | 3 | 4 | 5 | 6 | 7 | 8 | 9 | 10 |
| | 3400 | 2150 | 1650 | 1400 | 1200 | 1100 | 1000 | 950 | 900 | 850 |
Valid Date: Until Dec 2018
Price includes:
1. All transfer and Tours with private vehicle and local English speaking tour guide
2. Entrance fees as listed
3. Meal as listed (daily lunch)
4. Accommodations (twin or triple share) with simple breakfast as listed
2. Tips for guide and driver
Remarks:
1-4 person: Buick MPV or similar
5-6 person: 9-seat Joylong Van or similar
7-10 person: 19-seat Golden Dragon coach or similar
No Shopping Stops or Factory Visit
Lunch is not included for single traveller.
Surcharge might apply during public holidays period.

Enquire About This Tour